New Stuff
We're now shipping several new kits.
FNM-510 Small and Medium Wooden Crates - $7.95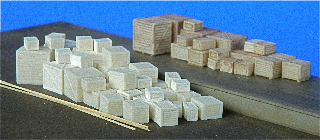 This is an assortment of eight different crates totaling 3-dozen pieces and includes scale lumber for skids where needed. Ideal for loading docks, factories, freight forwarding locations, and loads on freight cars and trucks.
FNM-590 Stacks O' Sacks O' Stuff - $6.95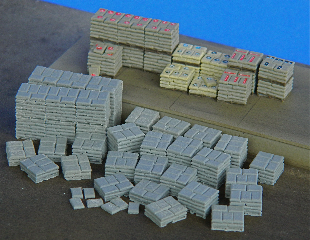 Lots of stuff is shipped in sacks from cement, fertilizer, and seed to plastic pellets and dog food. These stacks of stuff were modeled after pallets of cement and concrete found at our local lumberyard. The kit includes twenty-six castings plus a few individual bags O' stuff.
FNA-3611 Eco-Blocks - $6.95

Eco-Blocks, or whatever name they go by in your region, cast concrete blocks with a built-in cable lift ring. They're used for traffic and erosion control primarily, but are seen at sand and gravel yards, building supply yards, in short, anywhere a temporary, portable, inexpensive containment wall is needed. They also form low, two to three blocks high, retaining walls. The kit includes a dozen full blocks, six half-blocks, and three each of assembled blocks on and two high.
FNA-3612 Loading Docks - $9.95

These loading docks were designed for use in intermodal yards, but are handy for warehouse docks and freight forwarding operations. Each kit includes two docks, approximately 20 by 60-feet, two ramps, plus some traffic cones and parking bumpers to keep forklifts and workers from going over the edge. The ramp is shaped to fit anywhere around the edge of the dock, and docks can be joined end-to-end or placed side-by-side.